IT REMOTE SUPPORT BY BIZCOPIER
INTERNSHIP HIRING COPIER.COM.MY
Embrace unparalleled productivity and efficiency in your office with the Ricoh IM C3500. This all-in-one color printer is designed to meet the demands of modern businesses, providing exceptional features and impressive performance that will revolutionize your workflow.
The Ricoh IM C3500 is a high-speed printer that can print up to 35 pages per minute (ppm). It can handle high-volume printing tasks with ease, ensuring that your workflow remains uninterrupted. The printer also has a rapid scan speed of up to 80 images per minute (ipm), which allows you to quickly digitize documents and convert them into searchable files. This feature saves you valuable time and effort.
The Ricoh IM C3500 is an all-in-one printer that goes beyond mere printing. It offers a comprehensive suite of features that cater to your diverse business needs. With its advanced copying, scanning, and faxing capabilities, you can streamline your workflow and handle a wide range of tasks with exceptional ease. The printer is equipped with a user-friendly 10.1-inch touchscreen that provides intuitive navigation and control. Its streamlined interface makes it easy for anyone to operate the printer, even those with limited technical expertise.
In today's data-driven world, security is paramount. The Ricoh IM C3500 is designed with a comprehensive suite of security features to safeguard your sensitive information. Its multi-level password protection, data encryption, and access control measures ensure that your data remains protected from unauthorized access.
The Ricoh IM C3500 is not just a printer; it's an investment in the future. With Ricoh Always Current Technology (ACT), you can access the latest firmware updates and software advancements seamlessly, ensuring that your printer remains at the forefront of technology. The printer is the ideal solution for businesses that demand exceptional performance, versatility, and security. With its powerful features, intuitive controls, and unwavering commitment to innovation, the Ricoh IM C3500 is poised to revolutionize your workflow and empower your business to achieve new heights of success.
Contact us today to learn more about how the Ricoh IM C3500 can transform your office.
The Ricoh IMC3500 is a multifunctional printer that offers a range of features and capabilities. It delivers fast printing speeds of up to 35 pages per minute (ppm), ensuring that your important documents are ready in no time.
The IM C3500 produces stunning, professional-grade color prints with vibrant colors and sharp details, making your marketing materials, presentations, and reports truly captivating. Its large, user-friendly color touchscreen panel allows you to navigate effortlessly through a range of features, customize settings, and access your most frequently used workflows with just a few taps.
With the IMC3500, versatile document handling becomes a breeze. Its generous paper capacity of up to 4,700 sheets minimizes the need for constant refills, allowing you to focus on more important tasks.
Embrace productivity with automatic duplex printing, reducing paper waste without sacrificing quality. Keep your sensitive information secure with the IMC3500's built-in security features. User authentication, data encryption, and secure print release ensure that your documents remain protected from unauthorized access, giving you peace of mind.
The IMC3500 effortlessly integrates with your office network, supporting major network protocols. Print directly from your mobile devices using Ricoh's Smart Device Connector app, providing convenient access to your documents from anywhere, at any time.
Upgrade to more affordable, convenient performance
      "Get more done with the RICOH IM C3500 Color Laser Multifunction Printer (MFP). It has RICOH Always Current Technology (ACT) which lets you access new applications, software, and cloud services whenever you need them. You can use it to print, copy, scan, and fax with speed, precision, and security. It's a great tool for long-lasting productivity."
Digitize documents to optimize workflows
      "Scan two-sided documents quickly with the 220-Sheet Single Pass Document Feeder (SPDF) at up to 240 images per minute (ipm). You can distribute them instantly using a wide range of Scan-to capabilities. Reduce double feeds during scanning with an optional Double Feed Detection Unit. For smaller documents like checks, tickets, and forms, you can choose the optional Small Paper Feeding Unit."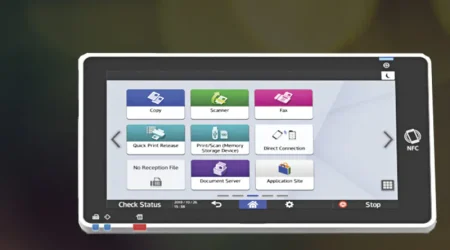 Respond to everyday needs quickly
    "The Smart Operation Panel is a 10.1" Android-based panel that offers instant access to key features. You can choose Full View mode to set copier options on a single screen. Reduce touchpoints by adding workflow shortcuts, place time-saving widgets on the Home Screen, and preview documents before printing. Access RICOH Content Manager and other optional cloud services with the web browser. The Smart Operation Panel is user-friendly and intuitive."
Save your energy
"The RICOH IM C3500 is an energy-efficient printer that conserves power with its ENERGY STAR™ certification and Typical Electricity Consumption of 0.391 kWh/week. It also meets EPEAT® Gold criteria. The device has a default Auto Off Timer to save energy when you're not using it. When you're ready to work, the Smart Operation Panel powers up within one second of touch thanks to a motion sensor. You can reduce paper usage with duplex printing."
Extend personalized productivity in your office
      "RICOH Always Current Technology platform updates help you address emerging business needs. You can download updates from the device's control panel to enhance and simplify workflows. You can add cutting-edge upgrades in moments without technical help. It's a way to future-proof the device, so users can maintain faster, smarter, and more secure workflows."