IT REMOTE SUPPORT BY BIZCOPIER
INTERNSHIP HIRING COPIER.COM.MY
ricoh color copier IM C5500

Color Laser Multifunction Printer
Expand productivity with enhanced capabilities now and into the future
Prints up to 55 ppm, copy, scan, optional fax

1200×1200 dpi max print resolution

Paper capacity up to 4,700 pages

Download advanced capabilities to expedite and simplify workflows
The Ricoh IMC5500 is a versatile and powerful multifunction copier designed to meet the demanding requirements of modern businesses. With its impressive range of features and industry-leading performance, this device is sure to streamline your document workflow and enhance productivity.
Enchannced Capabilities for Expand Productivity:
High-Speed Performance: Equipped with a robust Intel processor and ample memory, the IMC5500 delivers lightning-fast processing speeds to ensure that your office never slows down. Get your important documents printed, copied, and scanned in a matter of seconds.
Precision Color Output: Achieve professional-quality prints with the IMC5500's advanced color management technology. Whether you need vibrant marketing materials or crisp business documents, this copier produces outstanding results that will impress your clients and colleagues alike.
User-Friendly Interface: The intuitive touchscreen display makes it easy for anyone in your office to operate the Ricoh IMC5500. With its customizable icons and simple navigation, you can access all the copier's features and settings with just a few taps.
Versatile Media Handling: From letter-size documents to large banners, the IMC5500 can handle it all. With its high-capacity paper trays and flexible media support, you can print on a variety of sizes and media types without compromising speed or quality.
Enhanced Security: Protect your sensitive business information with the IMC5500's comprehensive security features. Control access to sensitive documents, prevent unauthorized use, and encrypt data transmission to ensure that your confidential information stays safe.
Why Choose the Ricoh IMC5500?
Unmatched Performance: Partnering with Ricoh, a market leader in office solutions, means you get the benefit of cutting-edge technology and reliable performance. The IMC5500 is designed to handle high-volume print jobs while maintaining exceptional quality.
Competitive Pricing: Copier Price Configurator's commitment to providing cost-effective solutions means you can get the Ricoh IMC5500 at a competitive price. Our goal is to help your business succeed without breaking the bank.
Top-Notch Support: We understand that reliable customer support is essential for your business. That's why we offer expert assistance and prompt service whenever you need it. Our team is dedicated to ensuring your satisfaction every step of the way.
Valuable Insights: In addition to offering exceptional products, we also provide valuable insights like print audits to help you optimize your printing infrastructure. We'll assess your current setup and provide recommendations to reduce costs and enhance efficiency.
Add to everyday productive performance
      Send a clear message that you're ready for everything. Use the RICOH IM C5500 Color Laser Multifunction Printer (MFP) for high-speed printing, scanning, copying, faxing and finishing. With RICOH Always Current Technology (ACT) platform, you can meet emerging needs by adding new features and access to new services when available right from the MFP's highly responsive Smart Operation Panel.
Simplify digital collaboration
      Transform documents into easy-to-share digital files at up to 240 images per minute (ipm) with the single pass document feeder (SPDF). Use multiple Scan-to options for immediate delivery. Or, send files to cloud services, such as Dropbox™ and SharePoint™. Reduce dual original feeds with the optional Double Feed Detection Unit. Scan tickets, checks and more with the optional Small Paper Feeding Unit.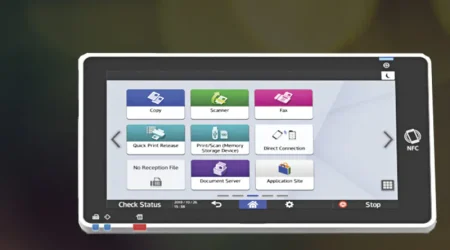 Respond with precision
      Add widgets, check settings, create workflow shortcuts and more with speed and precision via the redesigned, Android-based 10.1″ Smart Operation Panel. It's more accurate to the touch, so you can move between tasks with ease. Use Full View mode to expedite copying by seeing key settings on one screen, and access optional cloud services, such as 
RICOH Content Manager
, from the embedded web browser. Experience Ricoh's intuitive, user-friendly Smart Operation Panel with the 
Smart Operation Panel Simulator
.
Save your energy
Power doesn't have to come at a steep price. The RICOH IM C5500 is ENERGY STAR™ certified, meets EPEAT® Gold criteria and offers low Typical Electricity Consumption. Default duplex printing reduces paper usage and an Auto Off Timer minimizes energy consumption during idle periods. When it's time to work, a motion sensor powers up the Smart Operation Panel within one second of your touch.
Upgrade to productivity
      Download the latest cloud services, software and online apps to ensure your best ideas can be printed and shared long into the future. There's no technical support required. Simply add the enhancements directly from the MFP control panel to optimize workflows. Some updates will be available immediately. Other capabilities will be released over time, so you can future-proof your device as you go.