Six Tips for Buying Copier Machines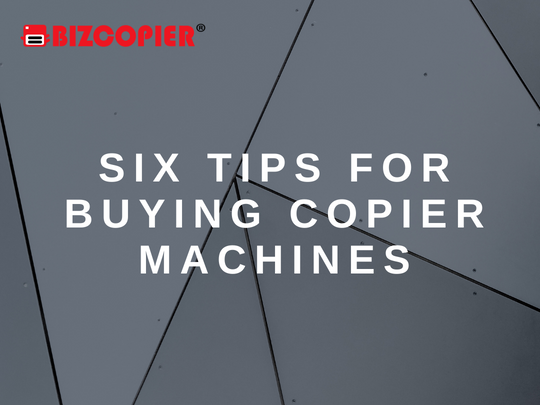 Making the decision to purchase a copier machine can be difficult. One way to make the process easier is to go with a local company with a good reputation, which guarantees you personalised service from a team that genuinely cares. Another option is to limit yourself to one brand and model, such as Ricoh copier machines. Here are six more suggestions:
Assess your needs
Before you begin comparing copier machines, consider your printing requirements. Make a list of all the projects you do and the features needed to complete them to help you shop. Your company's need for colour printing, printing volume, data security concerns, faxing capabilities, and the types of paper you need to accommodate are all important factors to consider. Be thorough with this step because it will mean the difference between loving and hating your new machine.
Consider buying used
Consider purchasing a used copier machine as you compare different models. The majority of used copiers are in excellent condition and have been refurbished to run like new. You can have all of the features, speed, and functionality you require while saving money. It's possible that the savings from a used copier will be enough to allow you to upgrade to a better model.
Learn about features
Modern copiers are outfitted with a plethora of useful features. These features are frequently optional, so it pays to educate yourself before making a purchase. A finisher is a useful feature that allows you to staple, hole punch, fold mail, and create booklets, saving you time and increasing accuracy. Other great features on many Ricoh printers include fast internal processing, all-in-one productivity, and test page options, giving you the freedom to choose features that boost productivity.
Look at technology
High-tech copier machines can serve as an office hub. If multiple people in your office use the same machine, look for copier machines with wireless networking capabilities. Take data security into account as you investigate networking options. When scanning documents or sending them to the printer, you need to know that your data is secure. Furthermore, some copiers are compatible with mobile apps that allow you to print from your smartphone or tablet.
Know about maintenance
It is critical to protect your investment, so pay close attention to maintenance issues and costs. Ink can be expensive, especially if you print in large quantities or at high resolution. Make sure you understand concepts like DPI and ink quality so you can select machines that truly meet your requirements. Replacement costs for items such as staples and paper should also be considered. Most importantly, consider the company's service policy before purchasing, because your satisfaction will be largely determined by how effectively the company resolves issues with your machine.
Think green
When it comes to copiers, thinking green can save you money, so look for a model that makes it simple to reduce your environmental impact. Ricoh is a pioneer in eco-friendly features such as Energy Star certification, organically produced toner, the use of recycled materials, and the ability to track the environmental impact of your copier machines.
Ricoh copier machines, for example, can make your business run much more smoothly. As you conduct your research and consider these suggestions, keep in mind that you can meet all of your needs by partnering with us, so please contact us for more information.
*Other Model Available
RICOH MPC3503/ MPC5503 | RICOH MPC3504/ MPC5504
CONTACT US: 03-3341 6296 | 018-788 6296 | 018-228 6296