3 Ways to Save with High-Tech Office Equipment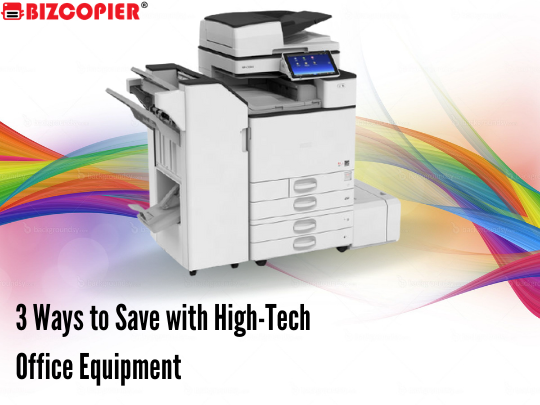 Paper-based filing systems provide almost no advantages, and the downsides are easy to spot.
Search time — Researchers estimate that searching for paper documents requires as much as eight hours per week, per employee.
Duplication — When documents can't be located, they must be recreated.
Loss — From misfiling to damage from age or disaster, paper files are nearly impossible to protect.
Slow process time — Business processes that rely on paper are notoriously inefficient.
Errors — Mistakes caused by manual data entry can cost companies thousands in lost revenue.
The Benefits of Scanning
Fortunately for your company, you don't have to rely on last century's solutions for document storage. Today's state-of-the-art office equipment eliminates the problems caused by handling physical documents. Multifunction printers and scanners allow for secure document capture, distribution, and storage using digital processes. Here are three of the chief advantages:
1. Save time. Your office equipment should provide tremendous time-saving advantages. A dedicated scanner with features like duplex scanning, automatic document feeders, network connectivity, and user-friendly interfaces make it easy to scan and route thousands of documents into document management systems. And with high internal memories, your scanner and multifunction system can give your team immediate access to critical documents.
2. Fast sharing. Pushing paper from one person and desk to another will never be fast, and today's high-tech office equipment has solved the problem. Users can quickly scan and route documents to multiple locations. With scan-to-email, scan-to-fax, and scan-to-folder capabilities, sharing documents is fast, easy, and secure.
3. Back it up. Backing up your data has never been more important. Digital solutions provide a failsafe in case the worst happens, and your physical location and office equipment are destroyed.
*Other Model Available
RICOH MPC3503/MPC5503 RICOH MPC3504/MPC5504

Contact Us: 03-3341 6296 | 018-788 6296 | 018-228 6296